Dave and Kimi are a husband and wife,  professional, Fort Myers dJ who live in Fort Myers, Florida. We travel the areas of Naples, Fort Myers, Cape Coral, and SW Florida doing all kinds of parties.
Specials, Ask For A Quote Now To Save!
Hire a Fort Myers DJ.  We travel to Fort Myers, Cape Coral, Naples, Punta Gorda, and towns in-between in the SW Florida area doing birthday parties, anniversary parties, Christmas and other holiday gigs, weddings and wedding receptions, or any party. Dave and Kimi love to DJ in the cities of Naples, Cape Coral, Marco Island, Punta Gorda, Port Charlotte, and small towns within 100 miles of Fort Myers. We are a Fort Myers wedding DJ, Naples DJ, Cape Coral DJ team.
When you hire DJ Riptide you will be getting DJ's who really care about the

service

 we provide for you. We try to do everything to help make you happy with your party, and you will always be the "boss" as far as we're concerned.
We DJ in Fort Myers and you control the volume and type of music, lighting, even what Dave and Kimi will wear to your event.
Equipment For Your Fort Myers wedding DJ
The importance of your DJ's equipment cannot be overstated.  Dave and Kimi have the best equipment available, and have back-ups for everything. You never know when something electronic will fail, and you don't want your party ruined because there are no backups.  We have the latest Radio edits, so can play your favorite songs at most venues.
Insurance For Your Fort Myers Wedding DJ
Make sure your DJ has insurance because some venues insist on it, and you don't want to have your DJ turned away on your party day because he doesn't have insurance.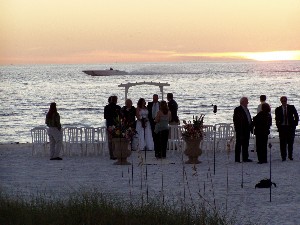 Fort Myers DJ Destination Weddings

Our Promise To You As Your Fort Myers DJ

DJ Dave and Kimi promise to do everything they can to help your party be a success. After you have sent your deposit, and signed the contract, you are "booked" and you become our very important customer. We will meet with you before or after being booked. in person. to discuss all aspects of your party if you like. You will have our email address and we never fail to answer any and all of your questions or comments. We check our mail several times every day and reply immediately to our customers.
You never have to wait several days to hear from us. We like to work with the planners we use on this website for weddings and receptions and we invite everyone to choose any and all songs for your party. You can also just give us an idea of what you like and we'll take it from there. It's all what you are comfortable with.
You are the "boss" when you hire DJ Riptide and you control the volume, the light show, music titles, and even what your Naples wedding DJ will be wearing.
When you book us we ask that you sign our contract, and pay your deposit. At that time you are considered, "booked" and no one else can get your date. See our Fort Myers wedding DJ video above.
We can emcee your whole event, following the planner that we agree to before the wedding and reception if you like. We can follow your lead and play songs, do the cake cutting, first dance, etc. when you tell us to or we can schedule everything according to the planner. It's all up to you, we can take all the stress of getting everything done in the right order at the right time so you don't have to do it. It's all up to you when you hire your Cape Coral wedding DJ.
We hope you will take some time to explore this website, even some of our videos and photos, to learn many things about what a Fort Myers DJ can do for you. Even if you decide not to hire us, please feel free to use our planners for wedding dj fort myers or music lists on this site.
Theme parties are Dave and Kimi's specialty. If you want to have a theme party, just ask and check out some of our past parties Themes.
Find our prices by getting a quote. Read reviews of past events for DJ Riptide. Dave and Kimi have lots of experience with weddings and wedding receptions in Cape Coral, Fort Myers, Naples, Marco Island, surrounding area. Get your quote today, we're waiting for you, to meet you and plan your special day or evening. Your Fort Myers DJ loves to have fun.